Initiate and expand collaboration with stakeholders to support health care activities at community level in Ninh Binh province
SUNI-SEA or 'Scaling-Up Non-Communicable Disease Interventions in Southeast Asia' funded by the European Union was a three-country project took place in Indonesia, Myanmar and Vietnam. The implementation sites in Vietnam are Ninh Binh and Hai Phong. The project aims to promote synergy between communities through Intergenerational Self-Help Clubs (ISHC) under the management of the Association of Elderly (AE) and the health sector in the prevention and management of hypertension and diabetes.
In Ninh Binh province, the project is implemented in 4 districts/cities with a total of 25 ISHCs. Before the Covid-19 pandemic, the Association of the Elderly (AE) also regularly held meeting and discussion with the health sector but no further action was taken.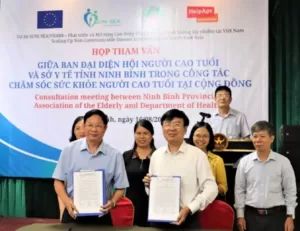 In 2022, after the pandemic had been controlled and activities returned to normal, with support and advice from HelpAge International in Vietnam as well as Vietnam Association of the Elderly (VAE), leaders of Ninh Binh AE actively met and discussed with the Department of Health to propose the collaboration to strengthen support for health care activities which are implemented in ISHCs. In August 2022, Ninh Binh AE and the Department of Health officially signed a Joint Collaboration Agreement where specific roles and tasks of each party and indicators for each level of staff were clearly stated. The Agreement aimed to maintain and scale up the healthcare activities of ISHCs for older people, club members, and community members. It also shown a commitment to provide screening and health examination for ISHC members for early detection and proactively prevention of NCD risk factors; promoting communication, health education to raise awareness on self-care and physical exercise among club members; strengthening the monthly monitoring of blood pressure and weight; home care, etc.
After this top-level Agreement signing, both parties actively gave instructions to their teams to also take actions at district level to support ISHC activities. As of April 2023, all eight districts had signed Agreements between the District Association of the Elderly and the District Health Center.  This is a significant step that demonstrate the dedication and efforts of the Provincial AE and the Department of Health for healthcare at local level.
"We're trying our best to make sure that the activities that have been agreed and signed at the provincial level will impact the lives of each local people, not just words on papers."
Mr. Dinh Ngoc Ha, President of the Ninh Binh AE
In addition, Ninh Binh AE was also very active in planning and coordinating with other departments in implementing healthcare for older people. In 2022, Ninh Binh AE signed a joint programme with the Department of Population and Family Planning (POPFP) to support communication sessions at the ISHCs; organising media events on Older People Day as well as developing communication materials. In 2022, the two parties jointly organised 8 communication events in 8 districts and cities for local people. Following the success, the Ninh Binh AE and POPFP planned to organise 30 communication events in 8 districts/cities across the province in 2023.
Furthermore, Ninh Binh AE is seeking more cooperation and support from new donors in the province. In April 2023, Ninh Binh AE signed a cooperation programme with the Community Health Investment Joint Stock Company. The main activities include training, awareness raising, self-care skills, and therapeutic methods for the ISHCs. The company will support ISHCs with health monitoring equipment; coordinate with the Commune Health Stations to organise health check-ups twice a year for club members and organise communication events.
Although the SUNI-SEA project has come to an end, Ninh Binh AE is still committed to maintain and support activities at ISHCs and actively seeking external resources to achieve the commitment. This includes supporting the activities at the clubs and replicating the project model to non-project sites and continuing to establish new ISHCs across the province, in accordance with Decision 1336 on replicating the ISHC model and the Prime Minister's Decision 1579 on the health care programme for older people in 2021-2030.
Written by Nong Thu Trang, Project Manager in Vietnam