In April 2022, four months after the completion of the Posbindu training, the SUNI-SEA Indonesia and the health office staff from the city of Kediri conducted a monitoring and evaluation of Posbindu implementation in Kediri City. The monitoring and evaluation activity is part of the research intervention phase of SUNI-SEA Indonesia. Twenty-eight cadres and five selected persons in charge of NCDs (Picture below), and five heads of health centres participated in this activity. This event aims to assess the implementation of Posbindu activities carried out by cadres after the training.
This event which was led by Prof. Ari Natalia Probandari was very interesting. Cadres filled out KAP surveys and conducted post-tests to determine their level of knowledge, attitudes, and the practice of cadres after training. In addition, the researchers conducted interactive discussions to learn about the implementation at each Posbindu.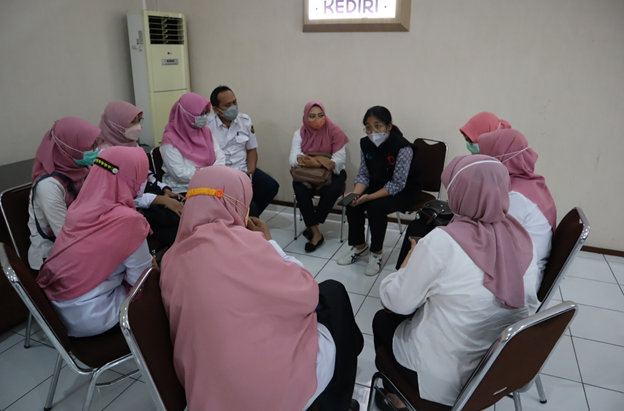 Researchers explore the implementation of the SUNI-SEA programme at Posbindu, including application of skills and training materials by conducting focus group discussions (FGD). One of the FGD participants said "In the past, I was not confident to carry out examinations, after attending the training from SUNI-SEA I was very confident and trusted I could transfer my knowledge to Posbindu participants." The opinion from the research project leader," In my opinion this is a very interesting event, " said Prof. Ari. In a very positive way the cadres enthusiastically participated. They hope that activities like this will be carried out regularly.