We are excited to have entered the fourth year of the SUNI-SEA project. During this last phase of our project we are looking forward to sharing the outcomes of our research including the analysed data, publications, training modules, policy recommendations and more.
Therefore, our team in the three countries started the year with a busy schedule of capacity building events, to ensure that relevant staff, volunteers and cadres are equipped with the necessary skills to continue implementing NCDs interventions after the project's completion. Research teams from the consortium universities are also focusing on developing knowledge products, with the intention of disseminating the learning and evidence generated by the project, to benefit NCDs research communities.
Click here to read the e-news.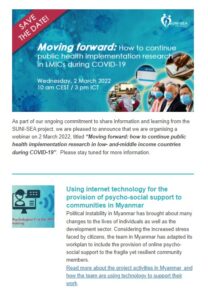 To ensure you won't miss any updates from us, please subscribe to our contact list here.