We have now completed our fourth year of SUNI -SEA project and entered the final six months.
Scaling-up of NCD interventions, as stated in the SUNI- SEA project title is one of the most crucial areas of our work.  We are in the process of created a scaling up strategy at all levels, global, regional and national, documenting our scale up approaches and key learning. We aim to widely share the final document.
In this issue of our newsletter, we are pleased to share the progress of our project and events we have attended and an opinion piece to voice our project's core values.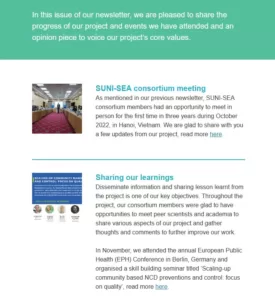 Click here access the newsletter.