Between January to April 2021, HelpAge International in Vietnam in collaboration with the Vietnam Association of the Elderly (VAE) successfully organised a series of five classes on "Training on Prevention and Control of Non-communicable diseases for Associations of the Elderly, Intergenerational Self-Help Clubs and other stakeholders" in four districts and cities of Ninh Binh province.  
Vietnam Association of the Elderly (VAE) is a national organisation of around seven million members.  The association is set up at all levels of administration from national, provincial, district, city, to commune level. VAE provides various support to older people and health education is one of their key mandates to promote healthy ageing among members.
At the training, participants included the representatives of VAE at all levels in Ninh Binh, the representatives of the Department of Health of Ninh Binh province, the representatives of district health centres and cities, staff health stations at town and commune level and members of twenty-five Intergenerational Self-Help Clubs (ISHCs) in Yen Mo district, Gia Vien district, Tam Diep city and Ninh Binh city.
Members of ISHCs invited to participate in the training included the club management board and the club health volunteers. The health volunteer is a new role in the ISHCs, which is piloted for the first time as part of the SUNI-SEA Project.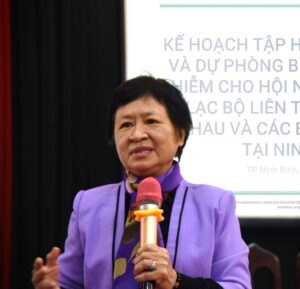 This training series included five classes, each class was four days long. Pham Tuyet Nhung, Acting Head of the External Relations Department – VAE, emphasised the importance of strengthening collaboration between health care workers at all levels and community-based organisations such as ISHCs to improve the effectiveness of health care activities for older people in Vietnam, especially the management and prevention of non-communicable diseases (NCDs) such as hypertension and diabetes.
Under the guidance of the trainers from the VAE and HelpAge in Vietnam, the participants were equipped with basic knowledge and skills related to:
Population ageing and health and wellbeing of older people.

Health promotion for NCD prevention, management, and self-care

Management of hypertension and diabetes through the model of ISHCs

Risk factor screening for hypertension and diabetes

Developing a collaboration mechanism between the ISHCs and health facilities in the management of hypertension and diabetes in the community
While participants gained increased knowledge about NCDs, they were also trained on necessary skills such as participatory training methods, and how to organise health communication sessions for older people. During the training, they had an opportunity to practice risk factor screening for hypertension and diabetes for ISHCs and community members, and to provide counselling on healthy lifestyles.
In addition, the participants practised how to keep records and use computer tablets to collect and summarise data, and report monthly health care activities. The use of computer tablets and mobile applications, brought older people closer to technology, enhanced their skills and allows them to be part of the digital age.
By the end of the training courses in Ninh Binh, 256 members of ISHCs had the knowledge and skills to implement hypertension and diabetes prevention and management activities in their community. In addition 125 sets of health toolkits (including blood pressure machines, weight scale, tape measure, BMI chart) were provided to 25 ISHCs to use for screening ISHC members and people in the community for  risk factor for hypertension and diabetes. 
The training course ended with enthusiastic participation and positive feedback from the participants. Some participants expressed their feelings through songs and poems, a Vietnamese artistic way of showing gratitude and appreciation.     
The outcome of the trainings is very reassuring. With suitable learning methods, older people can actively engage and enjoy learning new information. They can play a key role in supporting and motivating each another and promote and encourage behavioural changes within the group members to reduce NCDs risk factors.  
With lessons learned from the training series in Ninh Binh province, VAE in collaboration with HelpAge in Vietnam will continue to organise training courses for other ISHCs in another project site in Hai Phong city.