Please tell us about Work Package 2 of SUNI-SEA
SUNI-SEA is about improving the prevention and screening of NCDs. In Work package 2, whenever we identify possible NCD interventions or intervention packages, we think about the cost of these packages or the cost to achieve impact.
We see in our project implementation countries, but also in lots of other countries including high income countries that if prevention is not taking place and NCD screening is very scattered, the treatment costs are enormous. Treatment for patients who come too late into the health system and suffer from NCDs, is very costly. From a health perspective, for some people it can also be fatal. Having prevention and early screening services can save resources and save lives, therefore we are trying to find cost-effective approaches for this.
What types of intervention are we looking at in this Work Package?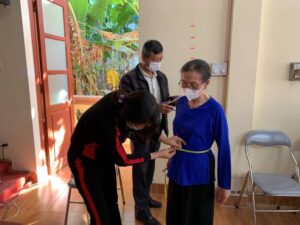 The screening means that people on a regular basis return to the primary health care centre. In Indonesia, for instance, we have specific services under Posbindu that provide screenings. The aim is that people are aware of the different NCDs they could suffer from, and then return regularly to the health centre for follow up screening; also to receive information and education about how to prevent NCDs in terms of healthy diets, physical activity, tobacco consumption, alcohol consumption, etc. so that they are less subject to risk in the first place.
How much money can we save, from early intervention?
There are some papers that do sort of 'back of the envelope calculations', about what early prevention could mean financially. Given the high costs of untreated or very late treated NCDs, this can easily mean a two to four percentage saving on GDP. Some of our projects have conducted a systematic review of interventions that have been implemented in the Southeast Asian context, and they found that often the most effective interventions are relatively cheap. For a few dollars, you can get an additional case diagnosed or get an additional person into screening. I think that's the way forward, we will look at the evidence we already have and test new approaches, and then identify those that provide the highest impact for the dollar spent.
What stage are we at in Indonesia on this part of work and what are we expecting?
In the first step, we did a baseline report to look exactly at the status before we started our own research and interventions. This was to get an idea of what is working and what is not working. Based on this we designed an intervention package. This package has five components: first is to work on a guideline or an algorithm, to see what health workers do with people that come to the health centres for a screening and what is the protocol. We then worked on that, improved it and made it more effective and consistent. Second is the training of the people who conduct the screening, in Indonesia, they are called the cadres. The third component is to develop and disseminate information materials for prospective patients, or people who return for follow up screening. Materials that teach them about the risks of NCDs, the risk factors, smoking, alcohol consumption, unhealthy diets, lack of physical activity, and so on. The fourth component is the training of the staff at the primary health care centres. The screening is also happening there. In addition, people are referred from the Posbindu to the primary health care centres, so they also see the patients in the second stage. The last component is the referral.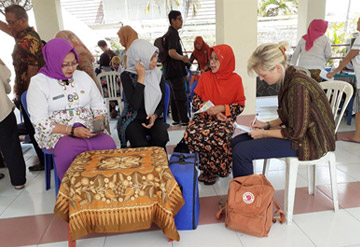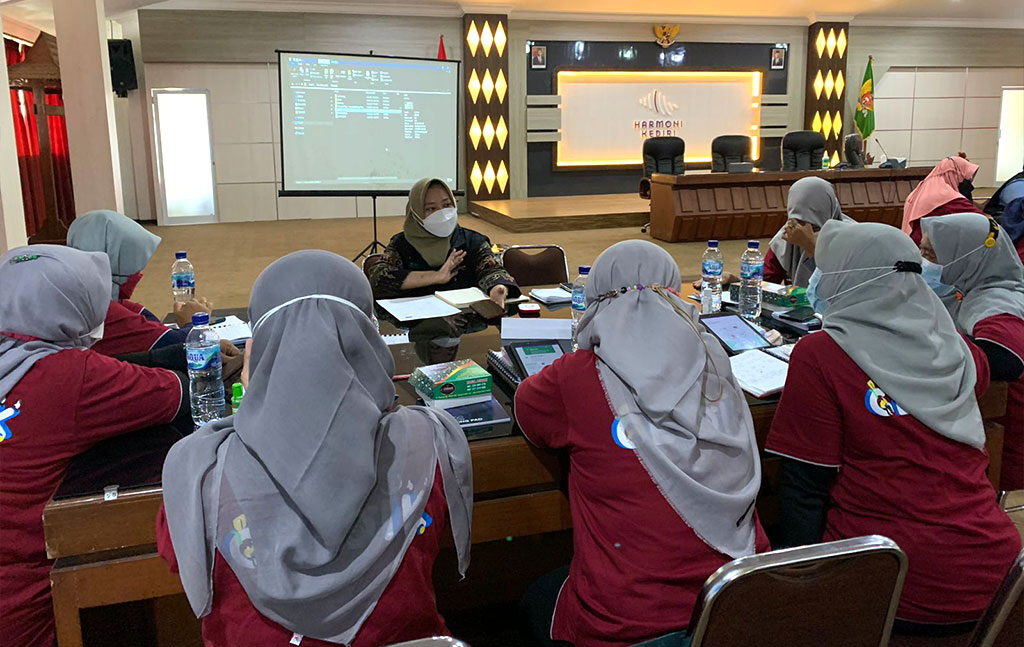 For instance, making sure that people who are referred because of NCD risks are being followed up, that they make an appointment with the primary health care centre, and then get an in-depth screening and treatment if NCDs are identified.
All these components of the intervention are now implemented in various regions. We defined other comparable regions where we keep the status quo. And then by comparing the situation in these two regions, we can get an idea on how effective this new intervention package will be.
Earlier this year, we completed a baseline survey, so we have interviewed patients or prospective patients and cadres – those who are doing the screening and staff in primary health care centres. We asked all sorts of questions to get a good idea on the current situation. Then in the research intervention sites we started to implement the intervention package. And in early 2023, we will go back to the same people, the same patients, prospective patients, the same cadres, the same staff in the primary health care centres, and ask more or less the same questions again. Then we can identify what has been the impact on the uptake of the services, cases diagnosed, successful referrals, correctly applied procedures, and algorithms, disseminated education materials. All these will be the outcomes we will look at.
What information surprised you in the process of this research?
From the baseline survey, some of the findings were surprising, remarkable and important for the design of our intervention. For instance, we found that only very few men turn up at the Posbindu for the screening, and 80 per cent of those who showed up were women. That certainly has to do with differences in awareness of health problems and health seeking behaviour, but it may also have very practical implications. Opening hours for the Posbindu typically open at times where maybe in that context, many men are at work and cannot afford to show up at the health centres. Another surprising finding was quite a lot of the cadre who work in the Posbindu, are poorly informed about NCDs, the procedures to apply and the follow up procedures to make sure that people comply with their referral. There was a potential for improvement.
How can we use the findings from SUNI-SEA project to improve NCDs intervention in the country?
We need easy-to-read policy briefs that can be particularly used by the government and the Ministry of Health to improve the screening, monitoring and treatment on NCDs. There should be a clear set of recommendations on how to make NCD prevention and management more effective and more cost-effective. We also plan to continue dialogue with policymakers after these results have been compiled and disseminated.
Secondly, we also want to contribute to the scientific domain. We will publish the results of the SUNI-SEA project in international scientific journals, because we think that a lot of what we find is probably also transferable to other countries. I think there's always potential for learning.